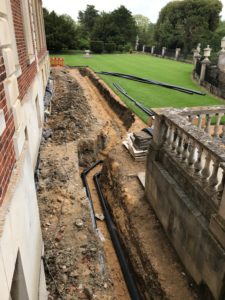 Accelerating the global transition to clean energy is under discussion today at COP26.
Several organisations are making efforts to create a low-carbon and more sustainable heritage sector. The National Trust (HEF member) for example is committed to protect nature and landscapes together with heritage and – among many actions in this area – is taking concrete steps to maximise energy efficiency in their properties. In the Grade I listed mansion Wimpole Hall, the Trust has installed heat pumps and solar panels and Wimpole is now producing a significant proportion of its own heat and electricity.
Read the Wimpole Hall case study here. 
The Church of England is also taking significant steps: for example, St Andrew's Church, Chedworth, moved away from oil-fired heating and now procures its electricity from 100% renewable sources. Thanks to this project, operating costs are lower and church users are more comfortable.
Read the St Andrew's Church case study here.
These are just two of many other case studies showcased in our report #HeritageResponds, which can be downloaded here.
Heritage is part of the solution.
Picture: Wimpole Hall, National Trust.