We can't believe it's already the end of 2021! It's been such a busy year, and another challenging one for many heritage organisations. We hope that 2022 paves the way to full recovery, and to a strong and resilient heritage sector.
With 2021 drawing to a close, it's time to look back at what we have achieved this year. Let's kickstart our year in review with figures about HEF as a whole. Here below you can find our main events, and the strategic priorities we discussed over the course of the year.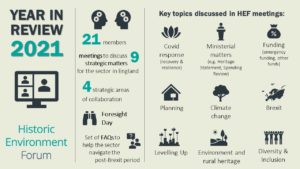 Our Covid Task Group published the Heritage Recovery Plan and helped DCMS to consult the sector ahead of the Heritage Statement. Our brilliant COP26 Task Group published the report Heritage Responds with a set of case studies to show the positive contribution the sector can have to tackle climate change.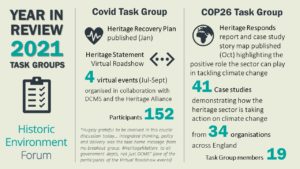 In Jan we launched this website – and thanks everyone for engaging with our comms & especially with #HeritageChat!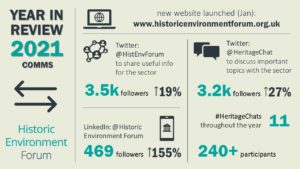 We sincerely want to thank all our members and Historic England for funding HEF. We are proud of what we have achieved in 2021, and we're looking forward to working with you in 2022!