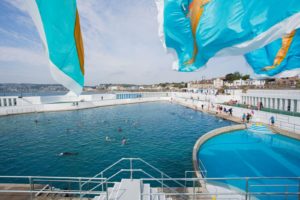 The COP26 agenda today will focus on mobilising public and private finance flows at scale for mitigation and adaptation.
Great examples come from the heritage sector, such as Jubilee Pool – a Grade II listed seawater lido in Penzance (Cornwall) opened in 1935 (see picture – credit: Architectural Heritage Fund). A Community Share fundraising project ensured Jubilee Pool could remain open throughout the year in a sustainable way, thanks to the use of geothermal energy. Thanks to Architectural Heritage Fund (HEF member) who shared this powerful case study with us.
Read the Jubilee Pool case study here. 
Energy efficiency can strengthen financial resilience of the managing organisations. Take for example Alexandra Palace, which hosts a diverse programme of events throughout the year: their new efficient lighting will reduce energy consumption and electricity costs. The project is a partnership between Alexandra Park & Palace, Salix and Haringey Council.
Read the Alexandra Palace case study here.
Both the case studies are part of our report #HeritageResponds, which can be downloaded here.
Heritage is part of the solution.