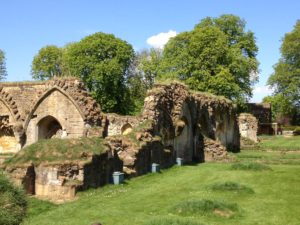 Ensuring the importance of nature and sustainable land use as part of global action on climate change and a clean, green recovery is on today's COP26 agenda.
What's good for nature is often good for heritage and vice versa. Our view must go beyond protecting nature within a heritage context, and we are increasingly embracing nature-based solutions and former traditional land management practice to improve conservation, to reduce risk and mitigate climate change.
English Heritage and the University of Oxford are working in collaboration to develop a new research agenda to inform more sustainable approaches to historic monument and building conservation, exploring the application of Nature Based Solutions to build climate resilience and enhance biodiversity.
Read the full case study here. 
Another great case study comes focuses on the Skell Valley. The valley has been flooded several times in recent years, raising fears that the ruins of Fountains Abbey are at risk of irreparable damage. A £2.5m National Trust project, in partnership with Nidderdale Area of Outstanding Beauty will implement nature-based solutions to improve the resilience of Skell Valley's resilience to changing weather. 16 local farmers and landowners will be rewarded for implementing nature based solutions, and the Trust will plant trees, create ponds and revive a nature reserve.
Read the Skell Valley case study here.
Both the case studies feature in our report #HeritageResponds, which can be downloaded here.
Heritage is part of the solution.
Picture: Hailes Abbey (Gloucestershire) – copyright University of Oxford.