Partners: The National Lottery Heritage Fund, various universities including University of Nottingham, University of Reading and University of Exeter.
Dates: November 2014-November 2019 (with an extension to November 2020)
Motivation for collaboration: To develop connections with universities to give further opportunities for students and (through them) the wider public. This was as part of the wider project's aims to reach out to a wider audience and encourage them to volunteer with the Portable Antiquities Scheme.
How the collaboration was formed: Finds Liaison Officers (FLOs), with the support of the central project team, connected with their local universities that offer archaeology-related courses to offer volunteering opportunities for students to gain experience with archaeological small finds recording and also outreach activities. For example, with support from the PASt Explorers team, the FLO for Nottinghamshire established a rolling team of volunteers from the university. Similarly, the FLO for Somerset ran a 6 week finds-recording course with the University of Exeter, with several students continuing as volunteers afterwards. The PASt Explorers team also approached university partners to facilitate joint training opportunities such as the sessions we did at Reading University Archaeology Department, which included Reading students as well as our volunteers. We also attended the University Archaeology Day event organised by UCL to raise our profile within the university community.
Benefits derived from collaboration: For us, it has expanded our volunteer base and led to long-term connections with students and former students. Many have gone on to do PhDs/research based on PAS data and their results feed back into our dataset. For the students it has provided an opportunity to gain experience with archaeological finds that they do not often get through their degree courses. The overall experience of volunteering is also something that feeds into employability and further study opportunities. For the universities involved, I think it offers added value to their courses.
Legacy of collaboration: It has shown that there are many benefits to this kind of collaboration for all involved. We have maintained links with current partners and are exploring further collaborations. 
Lessons learned: The biggest factor is the turnover of students as it takes considerable effort on behalf of the FLO to train new volunteers up and students typically leave after 3 years. However, we are taking steps to mitigate this by producing additional resources to help with training. 
More information about the PASt Explorers project and volunteering opportunities with the Scheme can be found on this website: https://finds.org.uk/getinvolved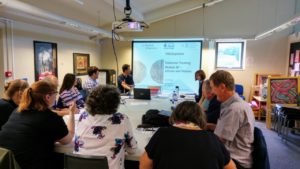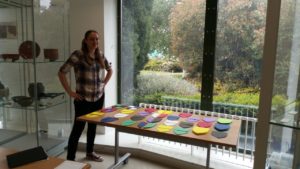 Both images are copyright PAS (Portable Antiquities Scheme)