Discovering England's Burial Spaces (DEBS) was a Historic England funded project based at the University of York and the Archaeology Data Service, with partners from the University of Liverpool, the Alliance of Local Government Archaeological Officers, the church heritage body ChurchCare, and burial ground stewardship charity Caring for God's Acre. The project ran from 2017 to 2020, and worked with community groups to design and test new resources that will help people to archaeologically record burial spaces, such as churchyards and cemeteries. The project responded to a need to support this popular community heritage activity by creating resources that introduce a new standardised methodology for surveying, meaning that datasets from different surveys will be interoperable and connections can be made between research projects.
The project also created a system for digitally archiving survey results. The Burial Space Research Database enables groups conducting research into burial spaces to safeguard their research in perpetuity, and share findings freely with the general public and other researchers. To support this work, the project also developed a new online form that can be used to add a record of research conducted to the national Online Index for Archaeological Investigations (OASIS). Using OASIS, heritage bodies and organisations that care for burial spaces, such as Historic Environment Record officers, will be able to see when a survey has taken place. This will ensure that findings from community-led research will support scholarship and inform future development.
In order to better support the work of community groups, their input and feedback was crucial in designing aspects of the new workflow, including the recording system, a mobile application and digital data entry tools. At each stage, the insights gained from this collaboration were incredibly valuable, and resulted in numerous improvements to the project outputs. That said, drawing together the different stakeholders, with their competing priorities, was not without its tensions. For example, the new standardised recording system privileges particular academic research and heritage management interests, and it makes for a powerful database, enabling studies that transcend sites. However, this standardisation reduces the ability of community groups to record memorials in a way that is focused on their particular interests and is best suited to their abilities. Furthermore, while a suite of tools has been developed to support the digitisation and archiving of the results of community-led research, the use of these tools is dependent on commitments of time and money from community groups, which they may not be willing or able to offer. Reviewing these tensions, one might make the argument that a more comprehensive collaborative design (co-design) process could have better navigated the project towards different solutions – an insight that other projects could bear in mind.
Despite the issues outlined above, there are reasons to be positive. The great enthusiasm of community groups for their own research, their sites and the project was highly impressive. The resources, tools and archive database produced during the project have laid the groundwork for a legacy of community-led burial space research, which has significant potential to discover and tell fascinating and poignant historical stories, promote engagement with heritage, and foster skills development and senses of place. These outcomes connect well with the priorities of higher education institutions and historic environment organisations, and there is fertile ground for continuing collaboration. 
Find out more at: http://debs.ac.uk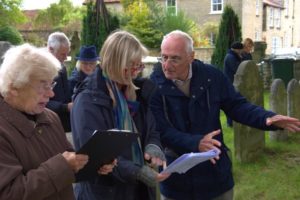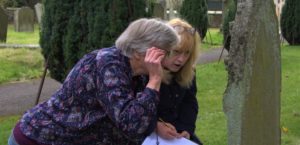 Slingsby Local History Group, October 2019. Images copyright Toby Pillett.