Partners
Funding: Heritage Lottery Fund, Surrey Archaeological Society, Surrey County Council, Woking Borough Council
Commercial archaeological organisations: Surrey County Archaeological Unit (lead), Archaeology South-East, QUEST
Voluntary: Friends of Woking Palace, Surrey Archaeological Society, many individuals
Academic: Department of Archaeozoology, University of Nottingham, Department of Archaeology, University of Reading
Start date/ end date
Planning for the initial phase began in 2008 and the project was completed in 2018
Type and formation of collaboration
The project began as a collaboration between Surrey County Archaeological Unit and Surrey Archaeological Society and developed with the particular support of the Department of Archaeology, University of Reading/QUEST and the Friends of Woking Palace, with the latter then taking a lead role in gaining HLF funding for further stages of the project, for which they won the 2018 Marsh Award for Community Archaeology.
The project was multi-faceted to achieve the objectives noted below, but had as its core seven seasons of excavation from 2009 to 2015.
Motivation for and benefits of collaboration
The overall aims of the project were to:
To develop understanding of Woking Palace, and place it in its regional and national context
To promote community involvement in and appreciation of the site
To provide information that would help develop a Conservation Management plan for the site
To provide a flagship project to highlight the value of archaeology and heritage to Surrey's cultural life
The different organisations involved clearly varied in the weight they attached to these aims but all understood that they were closely interlinked and mutually supportive.
Legacy of collaboration
Full academic publication (including a detailed review of the community archaeology contribution) in 2017 of which a review (Medieval Archaeology, 62.2 (2018), 464) said, 'In summary, this monograph balances the essential detail of a complex, extensive excavation with accessible language and visual support…and will interest a broad audience of archaeologists, historians and architectural historians… interested in medieval Britain'
A new dedicated exhibition (including a reconstruction model) on the palace within The Lightbox (the museum for Woking)
A full colour popular booklet
A better informed community, with well over 2000 people of all ages from the local community directly involved with the work, and many more attending open days, talks etc and hearing about the work from multiple media sources
A continuing volunteer legacy with numerous people who first experienced that role continuing to work with Surrey County Archaeological Unit, Friends of Woking Palace, and Surrey Archaeological Society
Lessons learned
Many smaller ones along the way (eg Poulton 2017, part 1.3.8), but the big message is that community archaeological work can be entirely consistent with high academic standards and is appropriate for work on even the most important sites, including Scheduled Monuments like this. The excavation work needed to be organised to ensure that the type of work for volunteers matched their skills and that the archaeology was not put at risk, primarily through a deliberate focus on exposure of the tops of foundations and other features, with very selective removal of stratified deposits. There is no reason why many other important sites could not be approached in a similar way.
Further information
The Friends of Woking Palace website can be accessed here:  http://www.woking-palace.org/
Further information on the publications written by SCAU can be found here: https://www.surreycc.gov.uk/heritage-culture-and-recreation/archaeology/archaeological-unit/spoilheap-publications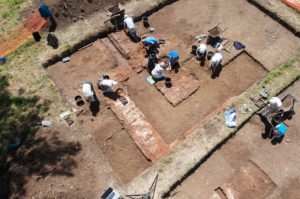 Staircase foundations in the royal lodgings of the late 15th century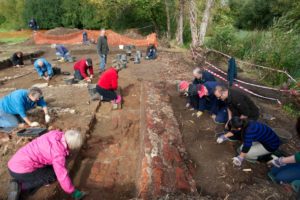 The Tudor perimeter wall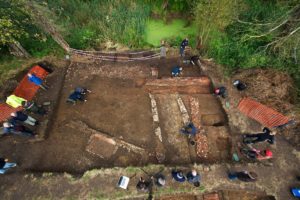 Medieval and Tudor foundations near the moat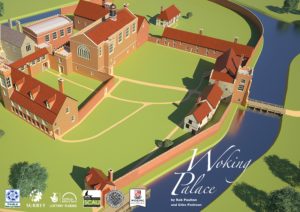 Booklet cover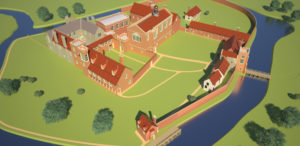 Reconstruction of the palace in the period of Henry VIII